ICON Opportunities Fund
The ICON Opportunities Fund seeks capital appreciation.
The Fund uses a quantitative methodology to identify industries and sectors in small company securities that ICON's methodology suggests are underpriced or overpriced relative to our calculation of intrinsic value. ICON believes that the equity markets go through themes over time, simply stated, stocks in industries that were market leaders at one time tend to become overpriced relative to intrinsic value, and stocks in industries that were not in favor tend to drop below intrinsic value. We sell industries we believe are overpriced and buy industries we believe are underpriced. The Fund may invest up to 25% of its assets in a single industry. ICON's combination of industry rotation and bottom-up valuation of small company equities distinguishes us from other small company investment managers. Normally, the Fund will invest at least 80% of its net assets (including any borrowings for investment purposes) in companies with a market capitalization that are within or below the range of companies in the S&P Small-Cap 600 Index. The market capitalization of the companies in the Fund's portfolio and the S&P Small-Cap 600 Index changes over time, and the Fund will not sell a stock just because the company has grown to a market capitalization outside the range. This strategy may not be changed unless Fund shareholders are given at least 60 days' prior notice.
The Fund invests primarily in equity securities, including common stocks, preferred stocks, and equity interests in trusts (including real estate investment trusts), partnerships, joint ventures, and limited liability companies. The Fund considers equity securities to include rights offerings and investments that convert into the equity securities.
The Latest
Download the most recent news and articles referencing the ICON Long/Short Fund.
For a more detailed example of how industry themes occur within the small cap market, please click on the image below.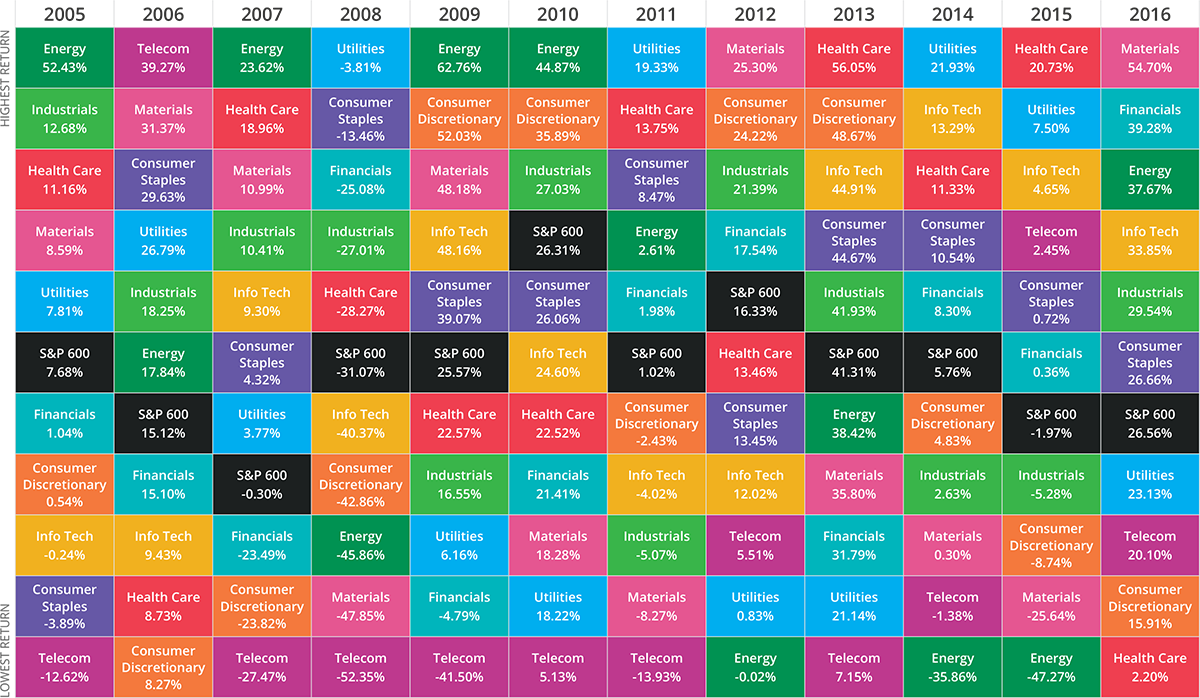 There are risks involved with mutual fund investing, including the risk of loss of principal. There is no assurance that the investment process will consistently lead to successful results. An investment concentrated in sectors and industries may involve greater risk and volatility than a more diversified investment. There are risks associated with Small- and Mid-Cap investing such as less liquidity, limited product lines, and small market share.

ICON Advisers, Inc.
5299 DTC Blvd., Suite 1200
Greenwood Village, CO 80111
Investing in securities involves inherent risks, including the risk that you can lose the value of your investment. There is no assurance that the investment process will consistently lead to successful results.
Consider the investment objectives, risks, charges, expenses, and share classes of each ICON Fund carefully before investing. The prospectus, summary prospectus and the statement of additional information contain this and other information about the Funds; please read the prospectus, summary prospectus and the statement of additional information carefully before investing. ICON DistributorsSM, distributor.
ICON Funds are offered only to U.S. citizens or residents of the U.S., and the information on this website is intended only for such persons. Nothing on this website should be considered a solicitation to buy or an offer to sell shares of any ICON Fund in any jurisdiction where the offer or solicitation would be unlawful under the securities laws of such jurisdiction.